At my school we are having a SUPER year and I need to personally thank SHAPE America Past-President Dolly Lambdin for it. I had the pleasure of meeting Dolly at the Southern District Convention in 2015.
For several years I've been writing fictional stories to introduce physical education units and I showed Dolly the teacher resources I've created called Literature Enhanced Physical Education. Dolly suggested that I write a children's book with Physical Education teachers as super heroes. Dolly rattled off all the wonderful things that PE teachers do for children. I was truly interested in the venture and flattered that she thought I could write this important story. The only problem was that I didn't think I could do it! It wasn't that I didn't agree that PE teachers could be super heroes to children; I just wasn't feeling much myself like a super hero.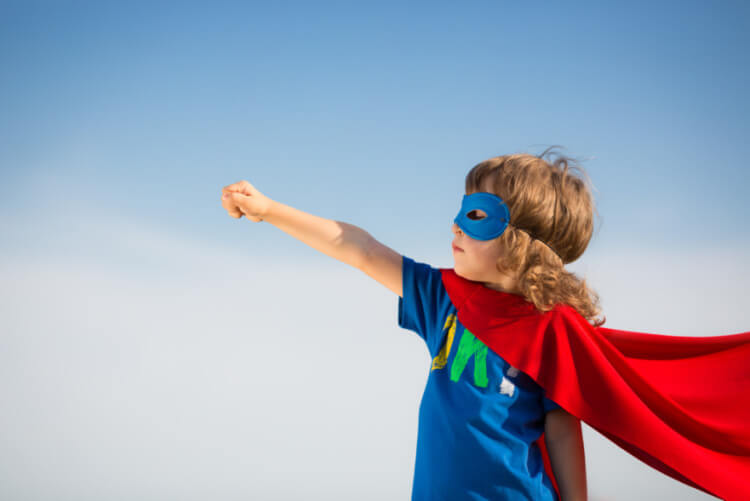 Each year, I set goals for myself at the beginning of the year and reflect upon them at the end. For the last 3 years, I've had the same goal: To try to connect better with my students. At the end of each year, despite progress I always feel that I can do better. Like many other PE teachers across the country, we can have up to 70 students in the gym at one time. My focus over the years has always been to get children moving. I intermittently stop to teach skills, share knowledge and reinforce social norms, then get students moving again. But I struggle to connect with each child personally, and if I don't make a personal connection I question, "Can I really ever become a super hero?" This year I was again going to try.
The first week of school, I explained to our 4th graders that the whole year would be dedicated to finding our super powers. We discussed how everyone has physical activities they enjoy and do well, as well as other activities that they are not so good at and need to practice. In physical education I was going to help them find their physical, social and cognitive super powers so that they could develop skills that would keep them healthy for the rest of their lives.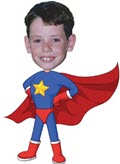 Whenever we found a super power, the student would get an avatar for our hallway. Each time they got a new super power that power would be posted next to their photo. The avatars are adorable! The students love them but more importantly, finding a super power for each child has forced me to make time to get to know each individual child! It made me look at my curriculum and find ways to offer more diverse activities and differentiate learning so that each student could succeed. By the time we celebrated back-to-school night, every child had a super power and I had taken a personal interest in each child.
We continue to add super powers, but we have also started to put our powers to use. My good friend and true PE Super Hero Jim Deline, gave me the inspiration for our next educational endeavor. He uses health zapping villians like Couch Potato Au Gratin, Sherriff Lazy Bones, and the Fat Cats in his lessons to teach students about nutrition and the benefits of physical activity. In the spirit of saving the world, our students identified what ingrediants in the foods we eat make them unhealthy and we created our own villians.
We now use these villians to teach the rest of the school how to make healthy choices in the cafeteria and at home by displaying comic strip bulletin boards. Using student work, student pictures, and student super heroes helps ensure that children will look and read the contents. I also try to identify students who would emotionally benefit from being depicted as a hero.
(This picture uses my own boys as super heros and to protect confidentiality I have covered the faces of the students with cartoons.)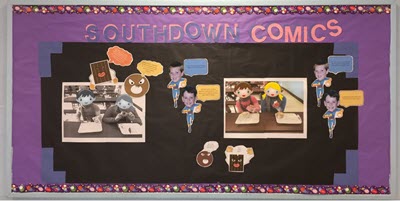 Our latest endeavor is to teach students the FITT principle. To do this, we are highlighting the students with the greatest health-related fitness super powers (minus body composition). I sit down with each student individually and we create his or her personal legend. Here's an example:
Yovanni and Sam, better known as the "Cardio Twins," grew up in the mountains of Argentina and walked a mile to school every day. One day, a bear began following them so they decided to begin running. Because bears love to chase, the bear returned every morning to play this game with the boys. Fearful of being eaten, the boys would take a longer route to school each day in order to tire the bear out. They moved to America at age 9 and because of their early aerobic adventures, they are now considered Southdown's Cardiovascular Endurance Super Heroes.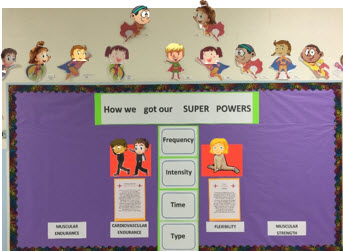 (Cartoons to protect confidentiality have replaced the actual children's faces.)
With the year now half over we're piling up super powers. I am so focused on helping students achieve that I believe I'm finally finding my own super powers!
I can:
Educate the whole child
Motivate through a child's imagination
Differentiate lessons for all learners
Provide exciting opportunities for learning inside and outside of the gym
Encourage children that feel frustrated
Make each child feel special
Help a shy child feel confident
Create memories
Promote personal and social responsibility
Lead by example
Stimulate thought
Bring sweat to a brow and a smile to a face
I'm sure my students and I will find more super powers and use them for the benefit of our community throughout the rest of the year (i.e. Super Hero field day.) As we make them, I will post to Twitter through @lynnhefele and on my website www.LEPEinc.com. If you have any suggestions, feel free to contact me at lynn.hefele@gmail.com.