Without question the most controversial subject in sports today is concussion risk and awareness.  This is particularly true for youth sports.  Lots of information is already in the mainstream regarding the effects of concussions, its direct sports related causes, and the preventive measures that are already in use and in development.  For readers who are physical educators or coaches I imagine that you are already very familiar with this topic and knowledgeable about the effects and causes of sports related concussions.  My commentary here will focus on my experiences and current opinions regarding the measures we are now seeing in sports.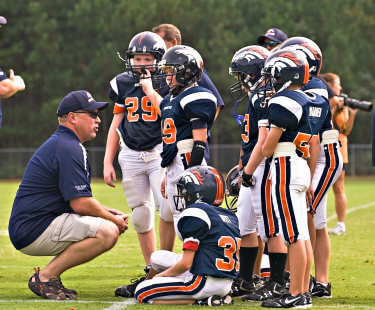 Over my fifty plus years in sports, from my playing days and throughout my coaching and administrative years, I've witnessed concussions in several sports. As a high school basketball player I saw one of my teammates get undercut while rebounding and hitting the back of his head on the floor with a such huge boom that the packed crowd went deathly silent. When I was young basketball coach, one of my players collided with another player while going for a loose ball.  Our player was immediately knocked out and suffered a short burst of convulsions while on the floor.  As a soccer coach I witnessed the worst concussion incident in my entire career.  One of our players, while going up into the air to head a ball backwards, collided heads with an opposing player trying to head the ball forward.  Our player immediately went to the ground and began convulsing. It was a most horrible site indeed, but happily the player recovered nicely.
I coached football for more than twenty years and we likely had players receive concussions, but I really can't recall one of our players experiencing a serious concussion.  I strongly believe that the reason for this is that we taught both tackling and blocking with the shoulder and strongly urged players to keep their head up when tackling or making any kind of contact with opponents.