I admit it. I'm disappointed, confused, and more than a little bit frustrated. It's now two-plus years since SHAPE America announced 50 Million Strong by 2029 (50MS) and some people still say they don't know what 50MS is. Well, okay, "some people" (as in, those outside our profession) I can understand. But physical education and health education professionals, really? I don't get it. So, let me give it another try with a teaching example:
In your mind, think about a school location you are familiar with. You are the elementary physical education teacher and teach 400 different students annually. Now imagine a world in which each and every one of your students is regularly physically active and doing their best to make healthy lifestyle choices. What are your students doing to live this lifestyle? What does the school day look like that supports this vision? What are you doing in your classes and outside of your classes to help your students succeed? What are your students choosing to do before and after school that keeps them physically active and healthy? What is happening in their homes, with their families, on weekends, and during holidays that supports this vision? Close your eyes and take a moment to visualize what this new and very different world looks like.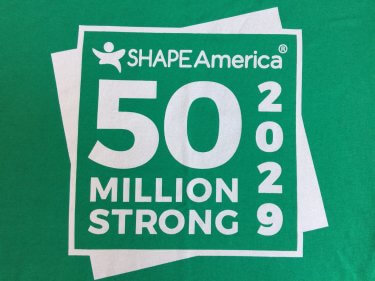 Welcome to the world of 50 Million Strong. It's not hard to imagine. It's not hard to understand. And it's not hard to commit oneself to creating a classroom, a school, a state, and a country in which all school-aged students are choosing and doing their very best to live physically active and healthy lives. And isn't this new world precisely what most physical educators and health educators would agree is the best measure of teaching success? Why else do we do what we do? If getting our students to be active and healthy is not our purpose what is? Surely this is our reason for being?