After attending SHAPE America sessions where the 50 Million Strong by 2029 commitment was unveiled and explained, I began thinking, "What can I do as an individual to further this exciting vision?"  As a retired secondary HPE teacher – coach, I now work facilitating our Sheboygan (WI) Area School District's Pre K PE program in what began as an Emeritus project.  The Early Learning Center houses approximately 600 children ages 3 – 5.  These are the graduating students of 2029, so what better place to begin promoting 50 Million Strong!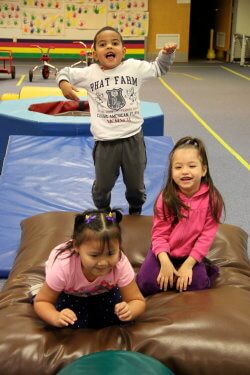 During the preparation of developing a plan to promote 50 Million Strong, I developed the following eight guidelines to help us reach the SHAPE America goal:
Design/implement lessons teaching fundamental skills based upon standards and assessments.
Integrate curriculum using literacy, math; PBIS (positive behavior according to a school goal).
Place emphasis upon physical activity.
Offer activity events (JRFH, FUTP60, etc.) that involve parent- child interaction of a physical nature.
Conduct parent/other adult educational workshops relative to PE & H literacy.
Promote Health Education inclusion.
Seek out community partnership.
Expand activities into the community beyond school.
When teaching, I regularly followed the first five guidelines, but after the information came out about 50 Million Strong I thought I could do more: