This is a follow up to my (Feb. 6, 2017) "50 Million Strong by 2029 –It Starts with Us!" essay.  In that essay, I explained that I had connected a class of Pre-K Head Start students with twelve high school 'PE Buddies' in a special 50 Million Strong project – 'Play, Learn, Grow'.  At that time, we were only a few weeks into our adventure together but had already received many positive comments.
The project ran on Tuesday mornings and into lunch time. These were green shirt days and moments of huge anticipation where young Pre-K students met and spent time with older PE Buddies.  As a result, over the course of this school year, we have become 'Stronger Together.'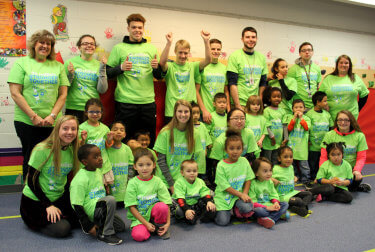 The 'Play, Learn, Grow' program was designed so each high school volunteer had one to two Pre K children with whom they were paired (Buddies). High school students helped to facilitate instructional PE lessons involving fundamental skills, integrated curriculum, inclusion, adherence to the school PBIS goals and just plain having fun during physical activity. Special bonds developed between all and these turned routine skill acquisition into magical experiences.