There is a strong movement in the United States to improve youth sport. Non-profit organizations such as the Positive Coaching Alliance (PCA), Right to Play, Changing the Game, Proactive Coaching, and many others are promoting a positive culture change in sport through coach development, parent education, and youth sport guidelines.  This movement also extends to professional sport organizations: Major League Baseball (MLB) created the RBI program or Reviving Baseball Inner City to increase "…young people's interest and participation in baseball and softball by re-introducing, reviving and rebuilding America's pastime in underserved communities" (MLB Community, 2017).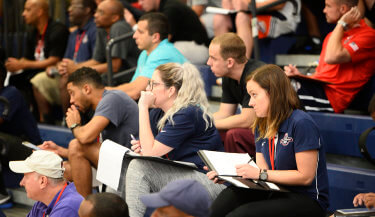 Additionally, several sport governing bodies have created programs designed to grow the game and create opportunities for young people. USA Football for example, operates FUNdamentals Clinics to introduce young athletes to the basic skills of the sport.  This collective effort by sport organizations is based on a grassroots mindset that focuses on the participation and developmental aspect of youth sports (Good Governance…, 2013)
Recently, I had the opportunity to participate in a USA Basketball Youth Development Coaching Academy as an attendee and speaker.  The Coaching Academy is a clinic for basketball coaches, where a line-up of speakers share insight on a variety of topics related to teaching the game, connecting with athletes, and dealing with off-court issues. Attendees also have the opportunity to become licensed USA Basketball coaches.
Created as a division of USA Basketball in 2013, the Youth Development Division is charged with developing young people and coaches to grow the game of basketball. The Coaching Academy is only one part of the Youth Development Division's mission. They host regional youth camps, youth clinics, a national youth tournament, and an open court program (USA Basketball, 2017).  All events follow best practices for a positive and healthy youth sport experience, as outlined by the Youth Basketball Guidelines (NBA, 2017). Recognizing the significance of the coach in growing and developing youth through sport, USA Basketball offers organizational accreditation, coach licensing, and multiple coach academies (USA Basketball, 2017).