Author's Note:  I wrote this on October 18th of 2016 and shared it with a few colleagues.  I held off publishing it because it's just my opinion and I'm not sure that non-profits should be critiqued.  I'm publishing it upon return from Boston as a concerned professional – Chris Hersl
What if you had a party and no one knew they were invited?  When no one shows up is it an insult to the host or the reality that the message didn't get out there?  As health and physical education professionals we are living out the party analogy in real life with SHAPE America's 50 Million Strong campaign that calls on, "…all of America's health and physical educators to unite and focus on a common purpose — getting all of the nation's children physically active, enthusiastic and committed to making healthy lifestyle choices."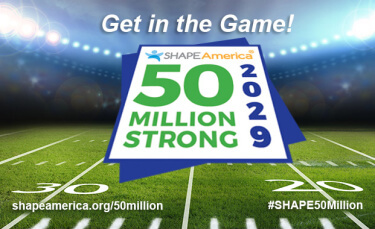 Healthy lifestyle choices seems like an admirable goal. Personally, if my 6 and 3 year old were enthusiastically choosing healthy options, engaging in physical activity I would feel very content as a parent.  So great, I'm a health and physical educator and I'm ready to do it; but what is it?  SHAPE America's website dedicates an entire section to the 50 Million Strong movement.  Excitedly, I see that there are three places I can start; Commit, Champion and Advocate.
For New England-headed SHAPE America convention participants, it was almost unbelievable to learn that five years after a power outage cancelled the last Boston convention, a major snowstorm threatened to derail this one. Sadly, weather-related flight cancellations messed up the travel plans of some people, but for those able to get to Boston it turned out to be a hugely successful convention.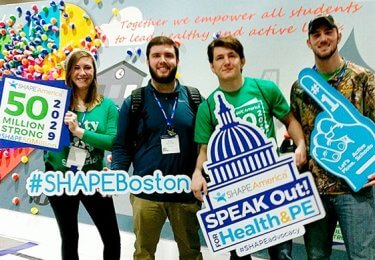 Tuesday's high-energy 50 Million Strong by 2029 forum included more than 30 presentations, four hours of opinion and idea sharing, and lots of notetaking. If you couldn't attend maybe you saw some of the Facebook Live streaming?  Participants discussed topics such as "What does 50 Million Strong look like in practice?" "How can research support 50 Million Strong?" "How can we prepare future teachers to succeed with 50 Million Strong?" "How is teacher leadership vital to the success of 50 Million Strong?" "How will embracing diversity advance 50 Million Strong?" and "How can we measure and assess 50 Million Strong?"
Because the presentations were very brief, supporting materials were put online. I encourage you to download them and share them with your colleagues or future teachers.  You can find out more through the SHAPE America 50 Million Strong webpage or using this link. Information collected from forum discussions will be shared shortly. In the meantime, I'd encourage you to keep sharing ideas and asking questions via the SHAPE America member blog Exchange.