It's too cold outside! It's snowing outside! There's too much snow!
Have you heard these statements before in or near your schoolyard? If so, you're not alone! The temperature seems to be a growing concern among children and youth. For some, the outside during winter months is "off limits!" Well, we disagree. We strongly believe that it is essential for children and youth to become regular physical activity participants outside. And right now, during the winter months, is the perfect time to help our students understand the possibilities and benefits of outside physical activity. So, as we journey through the last bit of winter, let's get at it!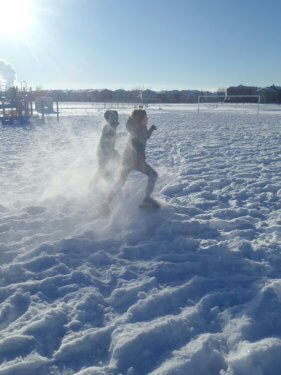 Before we share ideas of how to support students becoming active outside, we'd first like to point to some of the benefits of engaging in outside physical activity in colder temperatures. Benefits, which are further explained in a following section, include exposure to Vitamin D, fresh air, and the use of different muscle groups. Additionally, being active outside and engaging in a variety of movement experiences gives students opportunities to problem-solve and develop socially, as well as discover the fun of outdoor physical activity even in the cold.