Dear Physical Education Student Teacher,
You are about to undertake a challenge that many people undervalue and most misunderstand.  Sadly, you may actually be one of them.  Despite having spent your last four years in professional preparation where faculty have attempted to instruct you about what it means to be a teacher, you will still enter the profession aspiring to emulate the teachers, coaches and programs that molded you as an adolescent.
At this beginning stage of your career, you still see physical education teaching through immature eyes: the eyes of a successful mover, athlete, leader or team player.  You aren't seeing the challenge ahead of you through the eyes of a teacher: a mature professional focused on helping all students.  You mostly see only those students that reflect your image and are blind to the less skilled students who are awkward, shy and hesitant to engage.  You see success as the number of athletes that gravitate toward you, rather than the number of physically literate children that grow up to become health conscious adults.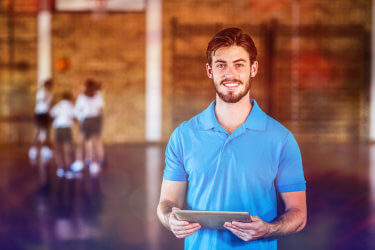 To prepare for the important transition from student to teacher you need to understand that you are about to enter a very special classroom.  This classroom doesn't have desks or chairs.  It isn't quiet or sedentary but it is a classroom just the same.  Despite the differences, you need to prepare for learning – not playing.  That means you should be creating lessons, not picking games and choosing teams.  Your lessons should address the grade level outcomes of all the classes you teach with attention to unique student strengths and weaknesses.  You must try to differentiate each of your lessons so that every student is being educated, not entertained or overlooked.  And you need to assess student knowledge and performance so that you have valid criteria for evidence of learning and future planning.
Remember, your goal is to develop physically literate children not high school or college athletes.  This means your program should help to cultivate young adults who are competent and confident in a variety of activities across multiple environments that benefit the healthy development of the whole person. To succeed, you must teach beyond team sports.  You need to offer your students opportunities to embrace yoga, dance, swimming and other activities that you yourself might not be literate in.  And most especially, you need to resist the urge to simply "roll out the ball" and not teach, and also become determined to change colleagues around you who do.
I write this letter to you as a veteran teacher who entered the gymnasium over 29 years ago.  Sadly, it took me way too many years to see my profession through the eyes of a teacher. Today, as you enter the gymnasium at the start of what I hope will be an enjoyable and productive career, I hope you understand you are a teacher, not a coach and not a recreation director.  Choose to take pride in our profession and represent it with integrity.  Make a promise to yourself to be a positive influence in the lives of all the children you teach each and every day.
Good luck.
Sincerely,
Lynn Hefele