There is a strong movement in the United States to improve youth sport. Non-profit organizations such as the Positive Coaching Alliance (PCA), Right to Play, Changing the Game, Proactive Coaching, and many others are promoting a positive culture change in sport through coach development, parent education, and youth sport guidelines.  This movement also extends to professional sport organizations: Major League Baseball (MLB) created the RBI program or Reviving Baseball Inner City to increase "…young people's interest and participation in baseball and softball by re-introducing, reviving and rebuilding America's pastime in underserved communities" (MLB Community, 2017).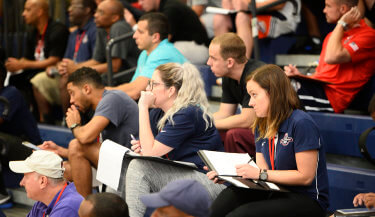 Additionally, several sport governing bodies have created programs designed to grow the game and create opportunities for young people. USA Football for example, operates FUNdamentals Clinics to introduce young athletes to the basic skills of the sport.  This collective effort by sport organizations is based on a grassroots mindset that focuses on the participation and developmental aspect of youth sports (Good Governance…, 2013)
Recently, I had the opportunity to participate in a USA Basketball Youth Development Coaching Academy as an attendee and speaker.  The Coaching Academy is a clinic for basketball coaches, where a line-up of speakers share insight on a variety of topics related to teaching the game, connecting with athletes, and dealing with off-court issues. Attendees also have the opportunity to become licensed USA Basketball coaches.
Created as a division of USA Basketball in 2013, the Youth Development Division is charged with developing young people and coaches to grow the game of basketball. The Coaching Academy is only one part of the Youth Development Division's mission. They host regional youth camps, youth clinics, a national youth tournament, and an open court program (USA Basketball, 2017).  All events follow best practices for a positive and healthy youth sport experience, as outlined by the Youth Basketball Guidelines (NBA, 2017). Recognizing the significance of the coach in growing and developing youth through sport, USA Basketball offers organizational accreditation, coach licensing, and multiple coach academies (USA Basketball, 2017).
A coach's role at the youth level is to teach, develop, and provide guidance in creating a positive sport environment (Gilbert, 2017).  To meet the demands of this role, coaches seek information to develop their knowledge and skills as a coach (Van Mullem & Van Mullem, 2014) and look for opportunities to connect with other coaches (McCullick, Elliott, & Schempp, 2016). They also want more support for meeting the challenges presented by external factors (e.g. pressure to win, parents, administrators) (Altfeld, Mallett, & Kellmann, 2014). Utilizing USA Youth Basketball's model for coach development, the purpose of this article is to discuss how continuing to learn, making professional connections, and receiving support are key ingredients in continuing to develop as a coach.
Learn
One key aspect of coach development is the pursuit of new knowledge to improve as a teacher of sport.  Legendary hall of fame basketball coach, John Wooden often stated, "When you are through learning, you are through."  The significance of becoming a lifelong learner cannot be overstated.  Coaches recognized as "experts" frequently emphasize the importance of pursuing mastery as a teacher of sport through the acquisition of new knowledge (Turner, Nelson, Potrac, 2012), and through improving their pedagogical skills (Martens, 2012).  More importantly, the skills and methods demonstrated by master teachers are learned over an extended period of time in an environment conducive to learning (Baker & Young, 2014).
During a USA Basketball Coaching Academy, coaches have the opportunity to listen and learn from some of the most established and respected expert coaches at all levels of competition.  Sessions include individual skill development, team play, and strategies for program success.  Additionally, sessions on athlete safety and long-term athlete development are provided. One of the most popular sessions is the USA Basketball Experience.  This is an interactive session where speakers put attendees through live drills on the court.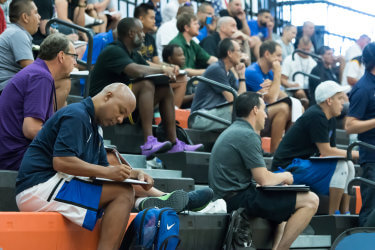 Research informs us that the actions of a leader and/or master teacher role-modeling lifelong learning creates an effective learning environment (Nater & Gallimore, 2010). The impact of a USA Basketball Coach Academy on creating a culture of learning is significantly enhanced by the inclusion of featured speakers actively engaged in the learning process. Prior to his presentation on traits of great coaches, ESPN Basketball Analyst Jay Bilas, could be seen taking notes while listening to other speakers.  He reinforced his action to the audience during his presentation by mentioning what he learned from the previous session.  In addition, he promoted the importance of continued learning when he stated, "Everybody you meet knows something you don't know…competence as a coach comes from continuing to learn." Both Jay Bilas' verbal and non-verbal actions had a lasting influence on the audience, while reinforcing one of the key aspects of ongoing coach development.
Connect
The role of a coach is multifaceted, challenging the coach to be able to teach technical and tactical skills, understand athlete development, build a program, and nurture relationships with key stakeholders (i.e. athletes, parents, administrators, program supporters, and support staff) (Gilbert, 2017). One approach coaches take to meet these demands is to develop a support network of people who have knowledge and experience in a variety of professional areas. This support network could be considered the coach's own personal board of directors (O'Connell, 2016).
There are different ways for coaches to create and develop their professional network.  These include: going where coaches convene, demonstrating competence, being accessible, seeking guidance, and celebrating others (Van Mullem & Croft, 2015). By attending a coaching clinic, such as the USA Basketball Coach Academy, coaches put themselves in the right environment to meet like-minded professionals and grow their support network.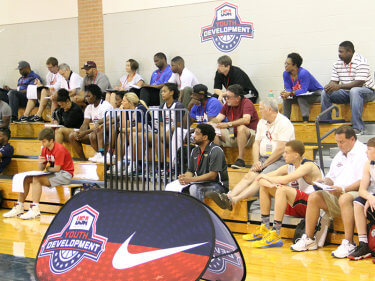 Two important considerations to keep in mind when seeking places to meet other coaches include, (1) What level of sport will be represented the most by the coaches in attendance? and (2) What opportunities will attendees have to meet other coaches during the experience? During a USA Basketball Coach Academy extra time scheduled between presentations and lunch sessions allowed interaction between attendees and speakers.
Most coaches likely realize the importance of making connections with others for professional growth and development. But, beyond being aware of the importance, coaches still need to be able to interact and be in an environment conducive to sharing and making new connections.  The structure and mindset behind the creation of a USA Basketball Coach Academy is an excellent practical example of the importance of connections being an integral aspect of coach development.
Support
Coaches often feel isolated.  They are busy planning the next practice, prepping for competition, and trying to please a variety of stakeholders (i.e. administrators, parents, boosters, etc.).  This coupled with the pervasive "win-at-all-cost" culture of sport, fuels the pressure on coaches to succeed and perpetuates a coaching perspective that their survival depends on their ability to outwork the competition and rack up a winning record.
In a sense, coaches are set-up to fail.  While there are national standards for sport coaches (SHAPE America, 2017), and additional programs at the state and local level, professional standards to serve as a youth coaches are rarely enforced or even considered when coaches are hired.  This lack of clearly defined professional standards for coaches leaves little support for administrators overseeing coaches when challenged by external factors such as lack of a winning record or disgruntled parents.
This situation has not gone unnoticed by the governing bodies of sport.  Realizing the need to provide better training for coaches and to set a standard of excellence for coaches, USA Youth Basketball developed a coach license program designed to provide education, access, and support for a licensed coach.
The Coach License program focuses on educating coaches while ensuring the safety of those with whom the coach may come in contact. The goal is to develop an inclusive basketball community of credible, qualified and dedicated coaches and administrators who serve the game. Challenge yourself to become a better teacher of the game and receive recognition as a licensed coach through USA Basketball (USA Basketball, 2017).
The USA Basketball Coach License program is aligned with the Youth Basketball Guidelines developed by USA Basketball and the NBA to shape the youth basketball culture (NBA, 2017).
The NBA and USA Basketball are committed to helping shape a youth basketball culture that prioritizes the health and well-being of young athletes – enhancing their enjoyment, participation, and development in the game (NBA, 2017).
If a coach is operating ethically and creating a positive environment for the growth and development of young people, having licensed rather than non-licensed coaches helps administrators act more supportively when external pressures arise related to playing time and winning. Importantly, licensing helps administrators understand that coaches need their support to help them continue developing and growing as a teacher of sport.
In sum, USA Basketball is a great example of a sport organization making a genuine and determined effort to improve the youth sport environment. Finding ways to help coaches – who are at the center of the youth sport experience – learn, connect, and receive support, will ensure a promising future for youth sport.
References
Altfeld, S., Mallett, C. J., & Kellmann, M. (2015). Coaches' burnout, stress, and recovery over a season: A longitudinal study. International Sport Coaching Journal, 2(2), 137-151.
Baker, J. & Young, B. (2014). 20 years later: Deliberate practice and the development of expertise in sport.  International Review of Sport and Exercise Psychology 7(1), 135–157. http://dx.doi.org/10.1080/1750984X.2014.896024
Gilbert, W. (2017). Coaching better every season: A year-round system for athlete development and program success. Champaign, IL: Human Kinetics.
Good Governance in Grassroots Sport. International Sport and Culture Association (2011). Copenhagen, Denmark.  Retrieved from: www.isca-web.org/files/GGGS_Web/GGGS_A4_DEF_Web.pdf
Martens, R. (2012). Successful coaching (4th ed.). Champaign, IL: Human Kinetics.
McCullick, B. A., Elliott, J., & Schempp, P. G. (2016). An analysis of National Football League coaching trees and the network they comprise. International Journal of Sports Science & Coaching, 11(1), 4-15.
Nater, S. & Gallimore, R. (2010). You haven't taught until they have learned: John Wooden's teaching principles and practices. Morgantown, WV: Fitness International Technology.
NBA (2017).  Youth development guidelines. Retrieved from: https://youthguidelines.nba.com/
O'Connell, E. (2016, June). Mastery in coaching from five perspectives: An educator, an ethicist, an administrator, a researcher, and a coach. Panel session presented at the National Coaching Conference, Seattle, WA.
SHAPE America (2017).  National standards for sport coaches.  Retrieved from: http://portal.shapeamerica.org/standards/coaching/coachingstandards.aspx
Turner, D., Nelson, L., & Potrac, P. (2012). The journey 'is' the destination: Reconsidering the expert sports coach. Quest, 64, 313–325. doi:10.1080/00336297.2012.706886.
USA Basketball (2017).  Youth development.  Retrieved from: https://www.usab.com/
Van Mullem, P. & Croft, C. (2015). Planning your journey in coaching: Building a network for long-term success. Strategies: A Journal for Physical and Sport Educators 28(6), 15-22.
Van Mullem, P. & Van Mullem, H.I. (2014). The learning process of a coach: Preferences of coaches in the United States. Journal of Kinesiology and Wellness. December (V3).